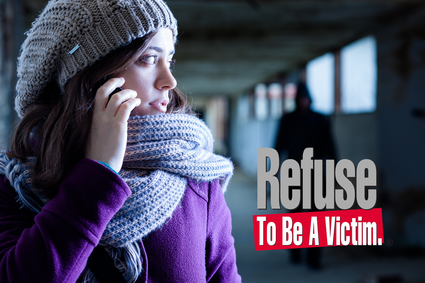 Refuse To A Victim
Refuse To Be A Victim® is a two to four hour crime prevention seminar, which provides practical information geared toward awareness and avoidance of criminal attack. Certified instructors help seminar participants better understand criminal thinking and provide tips on maximizing home, automobile, telephone, technological, and personal security. Participants learn information about how to easily and inexpensively create layers of safety in their everyday lives.

This safety awareness message has been presented in all 50 states, the District of Columbia, Canada, Puerto Rico, Costa Rica, and Trinidad and Tobago. Additionally, tens of thousands of people have attended seminars and this is what they have to say about the program:

"It equips attendees to take action to better enable their personal safety as well as protect homes and personal property. The material is straightforward and provides simple, practical steps that attendees can immediately put to use and allow them to be proactive regarding their personal safety. This course lives up to its name," wrote Andrew Maurer, President, Villa Lee Community Association, Vienna, Virginia.

Refuse To Be A Victim is "NOT" a self-defense couse it is a seminar to help raise awareness and teach people how to take steps to avoid being a target for criminals. Though self-defense and firearms courses are great supplements to the program, that is up to the individual to make the decision for themselves and take steps to learn more on their own.

Our Refuse To Be A Victim seminar's will be led by Brandon L. Fisher who is a long time martial arts instructor who is ranked as 7th Degree Black Belt in Okinawan Shorinryu Karatedo with over 30 years of martial arts training. As well as being a NRA Refuse To A Victim Certified instructor he is also a NRA Certified Pistol Instructor and Range Safety Officer.

Brandon has taught and assisted with self-defense seminars for over 20 years including organizing one while in high school for students getting ready to graduate and go off to college. Some of the organizations he has taught for include, Ohio Northern University (Kappa Phi Women's Service Organization) (Ada, OH), Ohio Savings Bank (Main Branch Cleveland, OH), Cuyahoga Community College (East and West Campus) and various city recreation departments and school systems around the local area.

Pete Shepker is also a certified instructor for Refuse To Be A Victim. Pete is an online security specialist by day and he brings many years of that experience to this course.

Our newest instructor is Stephanie Fisher. Stephanie is a 4th Degree Black Belt in Shorin Ryu Karate and a 1st Degree Black Belt in Ryukyu Kobujutsu (Okinawan Weaponry). By day she is a 7th grade math teacher and has a masters of education. Her teaching style is one that is easy to learn from and fun.
---