NRA Basic Pistol Shooting Class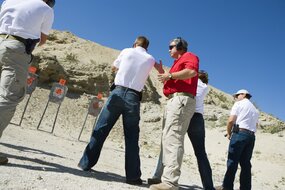 There is now 2 ways to be able to take this course and if fit your busy schedule.
Is the instructor led course which is taught 100% by our certified NRA pistol instructors. This is a minimum of an 8 hour course with the 2 hour range time to meet the minimum qualifications to obtain an Ohio Concealed Handgun License.
If you prefer you can also do the blended program, this course is done in 2 phases the first being online and the second in person and on the range. To take this course you will need a pass code from us to be able to access the online portal. Note you have 90 days to complete the online phase of the course and pass the exam with a 90% or better.
The second phase will review all the material of the first phase and complete with your 2 hour live fire qualification.
If your goal is not to obtain an Ohio concealed handgun license and you just wish to improve your skills with either a revolver or a semi auto pistol you can choose to take the course based solely on working with that particular handgun.
---