PDS Concealed Carry Class (NRA Personal protection in the home)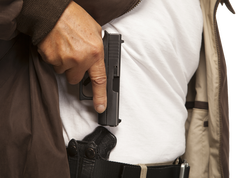 We live in a wonderful country, a country that gives us opportunities like no other in the world. We have freedoms, rights, privileges and other things that other countries do not have. Sometimes we forget that we also have bad in our country and the world isn't perfect. However it is not the majority of people but it is enough that we as citizens should take steps to protect ourselves and our loved ones at all times. Luckily we live in a country that allows us to do that.

Whether you are looking to take self-defense classes or learn to protect yourself with a firearm do something. The NCPDA Concealed Carry Class is an outstanding step to take in the right direction. Unfortunately our police officers can't be everywhere at all times to protect us no matter how much they want to be so becoming a responsibly armed citizen is in our opinion a good course of action.
Our concealed carry program is designed to achieve multiple goals and teach multiple things:
1. Teach proper firearms safety methods for both home and concealed carry purposes
2. Teach how different handguns function (both semi auto & revolver) each student will have the opportunity to practice loading and unloading these firearms in class using dummy ammunition.
3. Teach proper shooting technique to increase our students accuracy and overall shooting ability
a) Sight Picture
b) Trigger Control
c) Breath Control
d) Grip
e) Stance (Isosceles and Weaver)
4. Teach firearms maintenance and the importance of keeping your firearm clean.
5. Provide the minimum training required by Ohio law to obtain a concealed handgun license (CHL).
6. Exceed the minimum requirements and encourage students to later take more advanced continued education courses on concealed carry and self-defense topics.
7. Help students learn more about different aspects to safely carry a handgun on a daily basis
a) Holster Options
b) Storage In Your Car
c) Interaction with Law Enforcement When Carrying A Firearm
d) Concealment Techniques
What to do if you are involved in a shooting

Since we follow the NRA Basic Pistol Curriculum for the basis of this course you will get a significant amount of information on shooting fundamentals, safety and maintenance. When we tact on the information from the USCCA you can a lot of information about defensive shooting as well.
We use a mix of the NRA Basic Pistol Shooting Course. NRA Personal Protection In The Home, Personal Protection Outside The Home, Refuse To Be A Victim and information and tactics from the USCCA to teach our course on concealed carry. We teach techniques on avoiding a potentially dangerous situation and de-escalation of a situation if it cannot be avoided. We will briefly discuss weapons retention as it is an important aspect of carrying a gun for self-defense.

We always encourage our students to have other tactics in place to deal with a situation and not go directly to the firearm for several reasons:
1. Can you clearly defend why you used your firearm in court if you would have to?
2. Are your surroundings such that innocent bystanders would not be hit by a stray bullet?
3. Does the situation warrant deadly force?
4. If you have to draw your weapon do you know if the attacker has a friend behind you or not?

Our course can be completed in 1 day however we do recommend doing it over 2 days with the live fire qualification on the 2nd day. The course will exceed the 8 hour minimum training time required by Ohio but is one of the most comprehensive concealed courses you can take. Many people take carrying a gun to lightly they believe since it is their right the training requirement should not exist or if they are ok with the training they believe if they have a gun that's all there is to it and it is all they need. NEVER ASSUME ANYTHING!! Especially in self-defense knowledge and proficiency is the key to survival and training is the key to get to that point. There is a reason why police officers and military units train, because knowledge is power.

Each student will receive:
· An electronic copy of the Ohio Concealed Carry laws handbook from the Attorney General's office. This will allow you to put it on your smart phone or tablet so you can refer to as needed. This also allows us to insure that we are giving you the most recent copy of the handbook.
· Upon successful completion of this course you will receive a certificate stating that you successfully completed the course along a copy of the time sheet we use to document class and range hours.
Each person will need to bring the following to class:
1. A 3 ring binder or notebook to take notes
2. A semi-automatic pistol or revolver
3. 150 round of ammo minimum (50 for practice and 100 for qualification) (NO LIVE AMMO in the class room is permitted)
4. Drinks & Snack

Calibers we suggest for this class:
1. .22LR (if it is all you have)
2. .380ACP
3. 9mm
4. .38 Special
5. .40S&W
6. .45ACP

We prefer centerfire ammo for this course because most people do not use .22LR for self-defense so we encourage people to practice with something that has a little more recoil so they can learn to work with the recoil and not against it.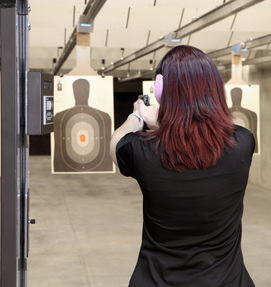 Live Fire Qualification
Target Size: 18in x 30in
Student starts with a 100 point value and it is up to them to keep it.

Letter Values
Hits In The A Zone – 0 Points
Hits In The B Zone – 0 Points
Hits In The C Zone – 1 Points
Hits In The D Zone – 2 Points

To pass the live fire qualification of the North Coast Personal Defense Academy CCW course each student must meet the qualifications set up by the instructors. Any shots that miss the target completely is an automatic failure.

Distance # of Rounds
Must Score 75 Out Of 100 to pass
5 Feet 20
10 Feet 20
15 Feet 20
20 Feet 20
30 Feet 20

If a student scores a 95 / 100 or better they are eligible to try at the 45 foot range
45 Feet 20
16 / 20 in at least the C zone
Instructors
Your instructors will be John Lowther and Brandon Fisher. Both John and Brandon are certified instructors by the National Rifle Association (NRA) in mulitple categories. Brandon is also a USCCA associate instructor and an NRA Certified Range Safety Officer. Brandon is also a long time martial artist and self-defense instructor. See the
instructors bio page
for more information.
As of 12/30/2016 a copy of the curriculum outline for this class that includes a copy of the exam, shooting qualification requirements, our certifications and a copy of our completion certificate as been mailed to the following sheriff's offices in Ohio: Ashland, Ashtabula, Erie, Cuyahoga, Geauga, Lake, Lorain, Mahoning, Medina, Portage, Richland, Stark, Summit, Trumball, Tuscarawasand Wayne Counties.